This is my first "Favorite Things" post and I'm so excited to share some things that I love!
This Scarf! I love it so much. I could wear every single day and not get sick of it. It goes great with ANY kind of shirt. It's from Nordstrom's. I don't live close to a Nordstrom's but there's free shipping-no minimum. So that makes it so easy. I first heard about it from Pinterest Told Me To. She has an awesome blog!
Here is one occasion that I'm wearing it. We went bowling with some friends. This is my amazing friend, Crystal. She also has the scarf and loves it!! (By the way, she has a fantastic new blog. Check it out by clicking on her name ) :)
I love "Reshaping it All" By: Candace Cameron Bure. I just started it and am almost finished. It is such an inspiring book. It makes me want to make the most of every second of my day. I'm inspired to be a better Mommy, take better care of myself by eating more healthy and spending more alone time with my Jesus. I am loving it. I already have someone in line to borrow the book after me.
And when I'm done with that book, I will be buying this next book by her. "Balancing It All." Because I want to know how she does it. I try my best to balance it all but I'm always looking for more pointers. And have I said how much I adore Candace Cameron Bure? I follow her on Instagram and she seems like THE sweetest!
I LOL'd so much in this book! It was a fun loving book. Melanie Shankle would be a great friend! Her stories are so relate able. I enjoyed every page of this book. And I think you would, too. :)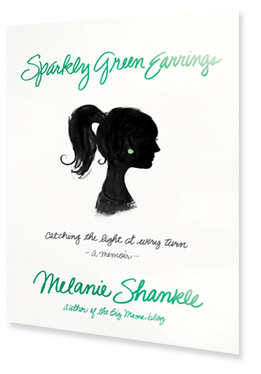 My next Favorite thing is This Candle...
It's from Bath and Body Works and currently on clearance. I got it for Christmas and the scent is delicious. It is not super strong which I love. I can't handle strong scents anymore. The peppermint smell is perfect for my home. I light it every day.
And my last Favorite thing for today is... (Drumroll, please)
My Mom bought it for me last year and I've barely put a dent in the bottle. You only need a very little bit. You can get it here from Amazon and it's $15.95 plus shipping. In my younger days, I would go to the tanning salon. But, I can't do that anymore. So, this lotion has been fantastic. When I use it, I mix it with a little bit of plain lotion so it's not too dark. And be sure to wash your hands as soon as you're done. For the winter, I just put it on my face, neck and arms. It is subtle and beautiful. The picture shows "dark" but I actually have "medium." I love, love it!
Well that wraps up My Favorite Things Post. Please join me next Thursday for more Favorite Things.